Holiday Party Looks
10:31 PM
Hey everyone!!
How have you all been? It's been like forever since I posted a new entry. Its the holiday season, and with finals, work and parties I have been pretty busy. I am posting two looks that I did for holiday parties that I've been to. The first one is for my school's holiday party and the other is the annual holiday party my family throws. I must admit, these sets of pictures didn't come out as good as normal, but they'll do. I really loved the look I did for my work's party. I used the MAC holiday pigment set Cool Capers. The second look is using NARS shadows. Both looks involve my favorite element for the holidays....glitter!!
For both looks:Face:
MAC Mineralize Satinfinish nc44
Strobe Cream
MAC Mineralize Skinfinish Natural Med/Dark
MAC Finishing Powder
Here are the looks!!!School Party Products Used:Eyes:
TFSI
Vellum e/s
Grape Pigment
Pandamonium e/s
Reflects Transparent Teal
Urban Decay Perversion Liner
Stila Kajal Liner Onyx
Ardell Lashes
Sexy Curves Mascara
Cheeks:
NARS Super Orgasm
MAC Belightful
Lips:
MAC Ahoy There l/s
Urban Decay Doug l/g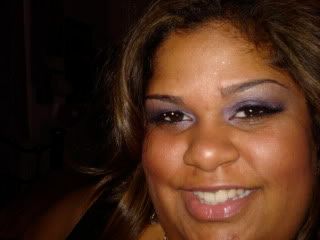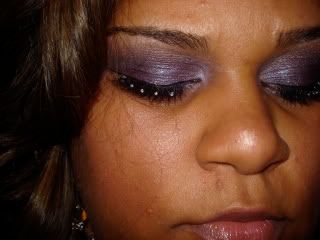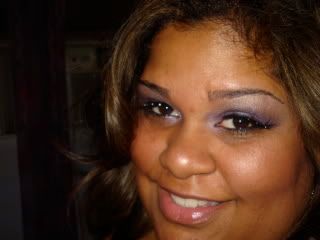 2nd Look: "Shots For The Holidays" 2nd Annual Party
Note that these pics were taken during the party. I didn't have time to take photos before I left.
Eyes:
TFSI
MAC Butternutty Shadestick
NARS Silent Night e/s
Urban Decay Eldorado e/s
NARS Mekong e/s
MAC Reflects Gold Glitter
Urban Decay Liner Perversion
Urban Decay Zero Liner
Ardell 106 lashes
Sexy Curves Mascara
Cheeks:
NARS Deep Throat
Benefit High Beam
Lips:
Nothing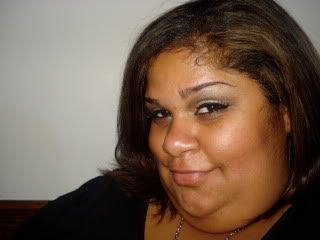 Thanks for looking!! I'll be back very soon!!