I Knew You'd Take All My Honey
5:26 PM
You selfish mother f**ker.......Love that line in the video!!
This is my first look inspired by the Lady Gaga Telephone video. It is inspired by the look Beyonce is wearing in the diner scene. I love the look of the yellow shadow with the extreme liquid liner. It isn't exactly like the video, but it is pretty darn close. I think if I would have used Chrome Yellow the look would have come out better, but I don't have that shadow. I took a screen shot of the look I'm going for, but if you've seen the video you probably know which look I'm going for. I really like the way it turned out. Onto the look....
Products Used (All MAC Unless Noted):Face:
Mineralize Satinfinish nc44
Strobe Cream
Mineralize Skinfinish Natural Med/Dark
Cheeks:
Springtime Blush Ombre (Contour)
NARS Deep Throat
Refined MSF
Eyes:
TFSI
Bright Future e/s
Wedge e/s
Soft Brown e/s
Texture e/s
Gesso e/s
Espresso e/s (Brows)
Lancome Artliner Noir

Urban Decay White Liner
Red Cherry #1 Lashes
Sexy Curves Mascara
Lips:
1n l/s
2n l/g
Bare Necessity d/g
Here come the photos....
First, the look we are going for...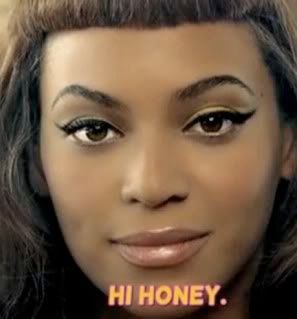 My Version...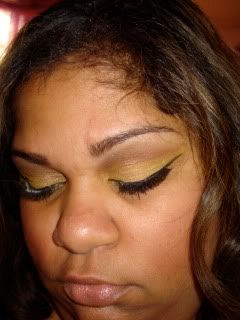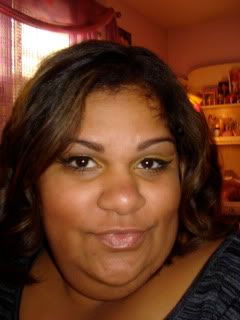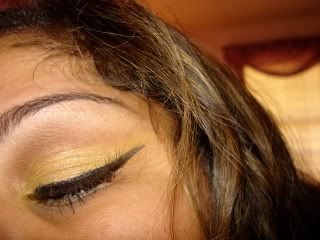 Hope you enjoyed this look. I really like it, and I'd totally wear this out and about. I plan on doing two more looks from the video. One where Gaga is in jail with the coke cans in her hair, and her blue look from the diner scene. Plus, I've got more exciting stuff too.

Later!!!