Kim Kardashian Inspired Eyes and FOTN
6:15 PM
Hey ya'll
Hope everyone had a fabulous weekend. I've got a FOTN coming to ya today. Over the weekend, I went to a Musical at the Fox Theater in Atlanta. I chose to do a smokey eye and re-create one of my favorite makeup looks. One of my makeup inspirations is Kim Kardashian. Her makeup always looks great, and I love her signature smokey eye. I was watching the tutorial that her and one of her makeup artists Stephen Moleski did on YouTube, and decided to re-create the look. I had recently ordered Contrast eyeshadow which they use in the video, and I really like it. It is a dark purple-blue color, and it looks great in the crease. My look doesn't look exactly like hers, but its pretty close. I didn't go as dark on the eyes. The tutorial is a must watch for anyone that likes Kim Kardashian's makeup. The video comes in four parts, so I will link it at the end of the post. Here come the products and pictures....
Products Used (All MAC Unless Noted):Face:
Mineralize Satinfinish nc44
Strobe Cream
Lustre Drops Sun Rush
Cheeks:
Stark Naked Blush
Belightful Iridescent Powder
Eyes:
TFSI
Femme Fi e/s
Creme De Mille e/s
Contrast e/s
Carbon e/s
Stila Kajal Onyx Eyeliner
Lancome Artliner Noir
Sexy Curves Mascara
Lips:
Ahoy, There!
Here come the photos....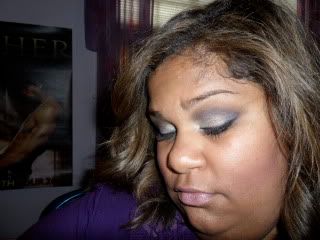 The Video...
Part 1
Part 2
Part 3
Part 4
Hope you all enjoyed this look. I'll be back very soon with my April Favorites, and a *Gasp* Lush haul. Hope ya'll are having a good week, and as always....
Love, Peace, and Happiness!!