February Favorites
10:54 PM
Hey everybody!!
First off, I wanna say a hey, hi, hello there, and how ya doing to my new followers!! Thanks for taking the time to stop by!! Looking forward to talking to you all. Here is my February edition of favorites. After looking at what I took photos of, I realized that I chose a lot of MAC. I definitely admit to being a MAC junkie. I am starting to branch out to other brands. Next month, I'll make more of an effort to include more products of different brands. Onto the products....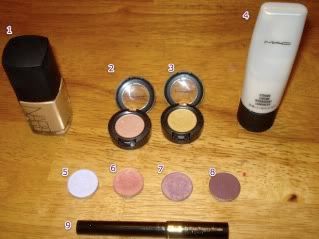 NARS Sheer Glow Foundation Syracuse: I started looking for a new foundation this month, and the beauty message boards I read lead me to NARS Sheer glow. I also had seen some great reviews on youtube about this product as well. As a person who likes their foundation to be glowy, I was intrigued when I first heard about this product. I was also a little worried because I have a problem with breaking out from new foundations. I had previously tried Make Up For Ever HD, MAC Studio Sculpt, and Maybelline Dream Liquid and they all broke me out. I also have a problem finding the right color. So trying this out was a little nerve racking for me. I've been using it for a couple of weeks, and so far so good. I really like it.
MAC Jest Eyeshadow: I got this at a CCO in December. Its a really nice peachy color. I use this for mostly everyday looks, it is my go to shadow. This with soft brown in the crease is a perfect natural look.
MAC Gorgeous Gold: I must admit that I'm bringing my spring eyeshadows into my makeup rotation a little early this year. I'm getting to the point where I can't stand this cold weather anymore. Spring colors are just so pretty. Purples, pinks, golds, greens and blues are so pretty in the springtime. Gorgeous gold is a perfect mix of gold and green.

MAC Strobe Cream: I use strobe cream absolutely everyday. I mix this in with my foundation to get a nice glowy look. This is a product that I will keep on repurchasing after I've used up the bottle. If MAC isn't your thing, Benefit has a version of this called High Beam. I have this as well, and it is a very good product.
MAC Digit Eyeshadow: Digit is a go to color of mine when I wear purples for a night on the town. I use this with my Make Up For Ever #92, and BAM...smokey eyes!! Its a great lid color.
MAC Expensive Pink Eyeshadow: Another one of my all time favorite MAC eyeshadows. It goes with so many colors. I use it with purples, pinks, corals, and sometimes yellow. I have been wearing it a lot this month with my purchases from the Spring Color Forecast Collection. 
MAC Trax Eyeshadow: Trax is also a permanent MAC color. It goes great with the next color.
MAC Sketch Eyeshadow: Sketch is a color I think every person who likes MAC should own. Its a plummy brown color, and can go with so many types of looks. It can be paired with pink, purple, coral, or brown eyeshadow looks. It is a great crease color.
Lancome Artliner Noir: I purchased this last weekend at an outlet store, and I am already in love with it. It is perfect for creating a winged eye look. A cheaper alternative to this eyeliner is the Loreal Lineur Intense in Carbon Black which I also have. It is a great alternative to it. The only difference in the two is that when I use the Loreal one, the black liner gets on my lashes and the Lancome one does not.

I also have two honorable mentions....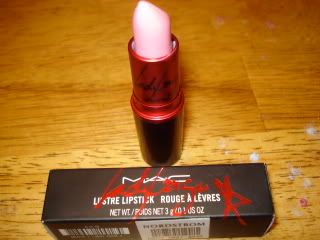 MAC Viva Glam Gaga: I absolutely adore Lady Gaga!! She is one of my favorite artists. I love her music, style, and makeup. I also love the fact that she is so positive. The message that she sends to her fans is one of love and equality for all. When I first found out that MAC was going to release a Gaga lipstick, I knew I'd have to have it even if I didn't like the color just because I love and support Gaga. Plus this lipstick is a Viva Glam lipstick, and the funds from the sales go to AIDS research. The color is absolutely gorgeous. Its a blue pink, and although it is very bright, it can be sheered out for daytime wear. I love it!
Lush Blackberry Bath Bomb: Lush has become one of my obsessions over the past year. I love their bath products. This is a bath bomb, which fizzes when you drop it into the tub. I love how their bath bombs and bubble bars turn the color of the water. This particular one turns the water purple, so I was all over it. I love purple!!  Plus, it smells so good. When you drop it in to the bath, your water turns purple and feels so silky. Get out of a Lush bath, and there's no need for lotion. You're skin is instantly moisturized, and stays soft all day.

There are my favorite things that I've been using this month. What are your favorite makeup products of the month? So until next time......

Love, Peace, and Happiness!!