Style Warriors Haul
7:30 PM
Okay, I admit it. I'm a sucker for a MAC limited edition collections. Their latest to be released is the Style Warriors Collection. This collection has a lot of awesome colors, and I love the animal print theme. The collection contains an array of eyeshadows, lipsticks and lipglosses, and blushes. Their is something for everyone in this collection. There are amazing neutrals and vibrant bolder colors. Also they came out with a new product called Lustre Drops, and a new to me product called skinsheen. I really like this collection, and I think its been the best release since Hello Kitty.



I picked up:


Vibrant Grape Eyeshadow
Bright Future Eyeshadow
Bronze Hero Lustre Drops
Sun Rush Lustre Drops
Blacktrack Fluidline



Here is my haul all together-

I love the packaging!!
Vibrant Grape and Bright Future Eyeshadows
-
These colors are both amazing. They yellow color does take some layering to get it to show up good, but it is gorgeous. The purple color is just the opposite. It goes on beautifully. I'll be uploading a FOTN using these colors shortly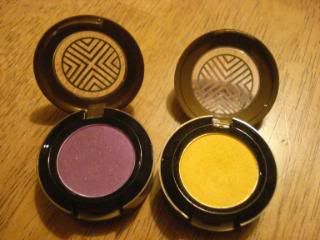 Lustre Drops in Sun Rush and Bronze Hero

-
Lustre Drops are liquid highlighters. They can be used with foundation or even moisturizer to give an all over glow. They can also be used as a highliter over blush. I picked up two of the three colors, and I must admit they do the job. When mixed with foundation and a little strobe cream, my skin looks awesome. Its not glittery at all, it just looks very glowy. So far, I am in love with this product and I'm debating on getting the third color.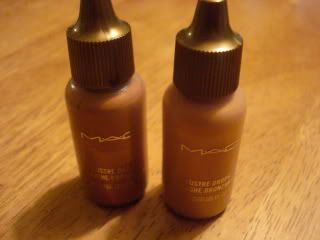 Until next time...