Halloween 2009 Makeup
8:29 PM
Hey Everyone!!
Hope you had a safe and Happy Halloween!! I went out to hear a great band last night, and I took some pictures of my face makeup. I went dressed as a Lusty Devil, so I went with a dark smokey eye and a red lip. Hey, who says you can't wear a bold eye and lip at the same time? I used my Style Black Eyeshadow in Cinderfella, so you can see how gorgeous it looks on. It was also the very first time I wore red lips out in public. I absolutely love the way this turned out.
Products Used (All MAC unless noted):
Face:
Mineralize Satinfinish nc44 (mixed with Strobe Cream)
Mineralize Skinfinish Natural
Prep and Prime finishing powder
Cheeks:
Peachykeen Blush
Iridescent Powder Belightful
Eyes:
TFSI
Greasepaint Stick
Cinderfella Shadow (Applied wet with Fix+)
Carbon e/s
Soft Brown e/s (to blend out crease)
Femme Fi
Loreal Liquid Eyeliner
Urban Decay 24/7 Zero
Maybelline Mascara
Ardell Flirty Lashes
Lips:
Cherry Liner
Ruby Woo L/s
Love Alert d/g
Here Come The Pics: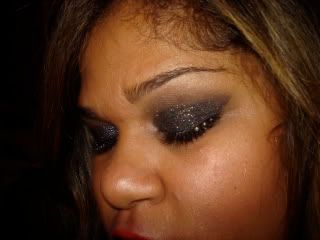 And a couple of Bonus shots:
Me and My Madre
Trying to be a Pinup..hahaha

Hope you enjoyed looking a the pics. Up next should be my Sephora Friends and Family sale purchases. I just have to finish taking pictures of everything.

Until next time.....