Sephora FF Haul Part 1: Illamasqua and NARS + FOTD
9:25 PM
Hey Everyone.
I am finally getting around to taking photos of my recent Sephora Friends and Family sale purchases. As I said in a previous blog, I was taking the sale opportunity to start my love affair with Illamasqua. I made a few orders, and this part is gonna feature the Illamasqua products I purchased plus a NARS blush. I also used them in a FOTD today, so you can see how the shadows look. So, here's what I got.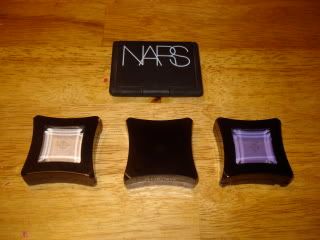 Illamasqua
Fatal Eyeshadow
Slink Eyeshadow
Furore Pigment
Packaging:
The packaging of these shadows is so cute. Although, I was a bit baffled when I first opened the box because I always thought they were much bigger. Every time I see the shadows in pictures and videos, they appear to a little bigger than they are in person. I really like the way the pigment is packaged. The top has a plastic cover and a small hole, so the product won't end up all over my carpet. Overall, the packaging is great. Isn't it cute?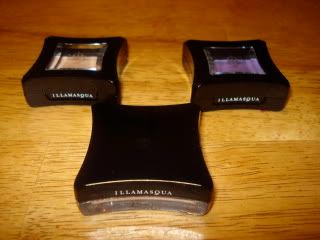 Colors review:
I have used the eyeshadows a couple of times since I purchased them, and they did not disappoint. Fatal is a matte dark purple, and it is very pretty. I usually don't use matte shadows because they tend to be hard to blend and not pigmented. That criticism doesn't apply to this eyeshadow. When you swipe the shadow, you can tell that it is very pigmented. When I applied it to my eye, I did not have to keep building up the color as I have to with many other mattes. It was also very easy to blend. Slink and Furore are both more natural colors. When I got them home, I realized that they look pretty similar. Slink shows up a little better on me, and Furore is more sparkly. However, I like using furore as a brow and inner corner highlight.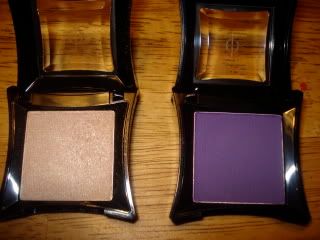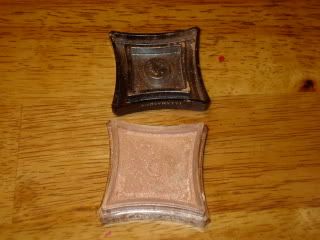 Overall, I really like what I purchased. This purchase definitely makes me want more. Probably won't purchase more any time soon because I'm saving up for Christmas. For now, I'm gonna enjoy what I have.


NARS
Deep Throat Blush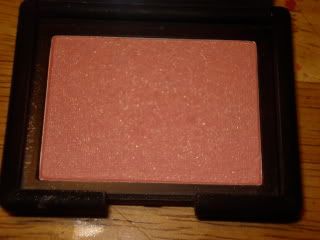 I absolutely adore NARS blushes. They are very pigmented, smooth and sparkly. I have a few, and I love each and every one of them. Deep Throat is a peachy pink blush with gold sparkles. Its a darker version of the Orgasm blush, which I also own. This one shows up on me more than the "big O" blush. Its mainly a daytime color for me, but I love it nonetheless. What are your favorite NARS blushes?
FOTD Time
Since I knew I was going to make this blog post today, I went ahead and took pictures of my look for today. This way you can see a look with the products, and kind of what I do from day to day. Most days, my eyeshadow look isn't this intense but I really do like it for everyday. I used all the products previously mentioned in this look.
Face:
Mineralize Satinfinish nc44
Mineralize Natural Med/Dark
Select Moisturecover nw35
Cheeks:
NARS Deep Throat
NARS Albatross
Eyes:
TFSI
Illamasqua Slink Eyeshadow
Illamasqua Fatal Eyeshadow
Illamasqua Furore Pigment
MAC Soft Brown Eyeshadow
MAC Femme Fi
Maybelline Lash Stiletto Liquid Eyeliner
UD 24/7 Zero
Maybelline Lash Stiletto Mascara
Lips:
MAC Cutester l/s
Pink lipgloss
Here come the pics: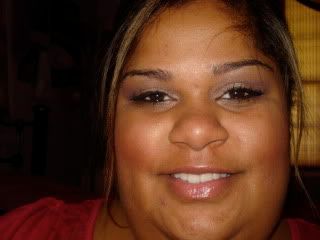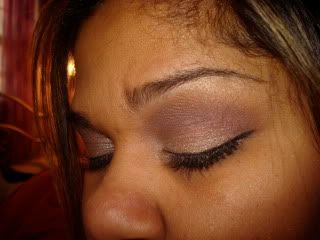 Whew, that was a long post. Are ya tired of reading now? Well, that's it for now. I'll be back in a few with my first comparison. I bought the new Maybelline Lash Stiletto liquid eyeliner, and I'm gonna compare it with the Loreal liquid eyeliner. See you all soon!!

Until next time...