Collective Haul: Vegas and More
10:02 PM
Hey ya'll
While I was in Vegas I got a chance to go to two of my favorite stores, Sephora and MAC. The Sephora I went to is at The Venetian Canal Shoppes. The sales lady said it was the biggest Sephora store in Vegas, and I sure do believe her. It was the biggest and nicest Sephora I have ever been in. It was a makeup lover's heaven!! I finally got to check out Illamasqua in person, and that's mainly what I purchased. Although, their selection of brands was out of this world, they were out of a lot of things. Also some of the things I picked up thinking it was what I wanted, when I got them back to the hotel it was a different color. That's partly my fault for not checking to see that I had the color right, but they also didn't have things in their right spot. Here are some pics of the store and my haul.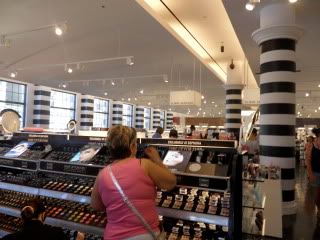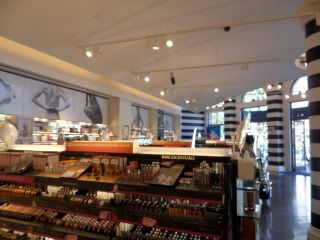 So here's my haul from Sephora
Make Up For Ever Aqua Cream #22 Emerald Green: I totally didn't mean to pick this one up. I thought I was getting the purple one #18. This is one of Make Up For Ever new products. It is a creme texture that is supposed to be really blendable and non-budging. I haven't had a chance to really test it yet, only on my hands. I can say that it took a while for the product to be washed off my hands. It seems like it may be a great product, but the green one may go back.
Illamasqua Sheer Lipgloss Divine: I have always wanted to try an Illamasqua gloss, and I now know why. I like the sheer ones because they go on top of lipstick really well. They aren't uber sticky like other brands, and that's why I really like it. This color is a sheer pink that goes great with most of the lippies in my collection.

Illamasqua Lipstick Obey: This lipstick gets lots of praise on message boards that I read. The color is a nice peachy pink, and it is a matte. I'm not really into matte lipsticks alone yet, but this one looks great with the Illamasqua gloss I purchased. I used this lip combo in a look that I'll be uploading later in the week, and as you will see it goes great with dark eyes.

Illamasqua Nail Polish Loella: This nail polish is described as a shimmering candy pink, so I knew it would be right up my alley. I absolutely love pink nail polishes. This one is gorgeous!!
So that was my haul from the Las Vegas Sephora. Onto the MAC Pro store.....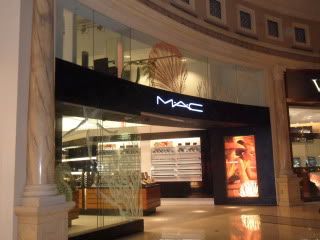 This store is located in the Caesars Palace Forum Shops. I had heard great things about this store. How the people were so friendly and knew a lot. Well, the people were kinda friendly, but I only had two issues. The first thing was that they were out of mostly everything I wanted. Now, I know that's not the fault of the SA's, but they were things I really wanted. I had a list and everything. I'll just call the pro number and order what I need. Also, the lady tries to tell me that Lustre Drops are a totally new product and have never been released before...UMMM NO!! I calmly try to tell the lady that I use the freaking product everyday, but she still insisted they were new. Whatever!!  Anyways, here's what I walked away with....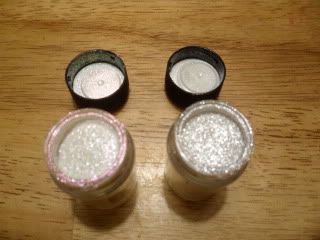 Reflects Transparant Pink Glitter: I absolutely adore reflects glitters. My goal is to own every color they have. They are gorgeous when applied over eyeshadow. This one looks like Pearl in the container, but when applied wet it turns a gorgeous pink color. I used this one over Vex, and it looked amazing. I will do that look again soon, and upload the photos.

Reflects Pearl Glitter: This is another one of the glitters. It is a pretty shimmering white color. This looks great on the skin. Haven't tried it on eyes yet, but I think it will look fabulous. Don't forget to use these with caution on the eyes because they are not eye safe. However, I have had no problems using reflects glitters on my eyes. 
So that's all I purchased in Vegas makeup wise. Before I left, I ordered a couple of things from Sephora. Here's what I got.
NARS Bronzer Casino: This is a dark bronzer that fits my skin tone very well. It gives my skin that sun kissed glow without using self tanners or lending myself to wrinkles. Loves it!!
YSL Faux Cills Black Mascara: I have always said that I have problems buying a mascara that was high end and pricey. It still bothers me a bit, but not as much and this mascara is the reason. I only bought this one because Nordstrom was having a buy 2 get 1 free sale. I can't resist those kind of sales especially with pricey mascara. Knowing Nordstrom was having this sale, I went to my twitter diva's and asked if anyone has tried it and liked it. I got an overwhelming response that this mascara was great, so I decided why the heck not and purchased it. Boy, am I glad I did. This mascara is truly worth the money, I am completely in love. It gives me the effect of false lashes when I'm not wearing any. I haven't noticed any clumping also when applied. It goes on smooth, and its overall a great mascara. At $30 a pop, I may not buy this one unless there is a sale but I will definitely re-purchase at some point. For those looking for a cheaper alternative, Rimmel Sexy Curves is and will always be my pick for drugstore mascara.
So, that's the things I have purchased over my vacation and the past couple of weeks. Next post will be a look using the Illamasqua lip items I purchased. Until next time....
Peace, Love, and Happiness!!!