Collective Haul and Review
10:24 PM
Hi Ladies,
I finally got my MAC box in the mail yesterday, so I can post my Style Black haul. I picked up a couple of things from the MAC store in my area, and a few things I ordered off the MAC website. I also got a couple of things from the DSquared collection, Makeup Art Cosmetics collection, and the regular line. This is probably going to be a long post. Here is a picture of everything that I purchased: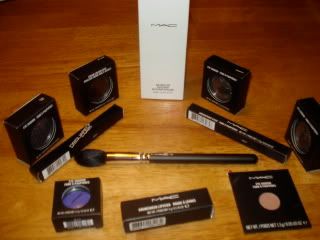 From Style Black:
Young Punk e/s
Cinderfella e/s
Guilt By Association e/s
Volcanic Ash Exfoliator
Bat Black CCB
Greasepaint stick Black
From DSquared:
Greasepaint stick V
165 Brush
From Makeup Art Cosmetics Collection:
Violet Trance e/s
From the Regular Line:
Creme Cup Lipstick
Soft Brown e/s
Now onto the Review:
Mineralize Shadows
: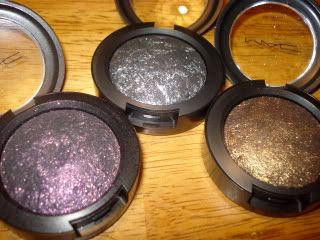 Oh, the glittery goodness. I am absolutely in love with these shadows. For any girl or guy that is a fan of glitter, these shadows are a must have. A plus with mineralize shadows is that you can use them wet or dry. They look good both ways, but they really shine when applied wet. I use a spritz of Fix+ on my brush, dip into the product and then apply. They also shine over a base. That is why I bought the greasepaint stick because it is a perfect base for these shadows. Just a tip, if you do use them wet make sure to leave the top open for the shadow to dry because you don't want to catch any bacteria that may have been on you're brush. I picked up three of the four shadows released with this collection, and I may go back for the fourth one to complete the set. Although, its a blue one and I never wear blue eyeshadow. But sometime I may right? Someone stop me....
Violet Trance and Soft Brown Eyeshadow: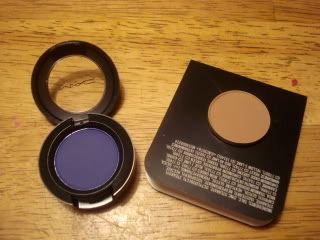 I mentioned in my Makeup Art Cosmetics collection haul that I was probably going back to get Violet Trance eyeshadow, and boy am I glad that I did. It is such a pretty color. Yes, it does take some work to get it to show up but I will make it work. As for Soft Brown it is in the regular line of colors. I see people on Specktra and Youtube all the time use this color to blend out the crease, and it does not disappoint. Its a new must have for me.
Greasepaint Sticks: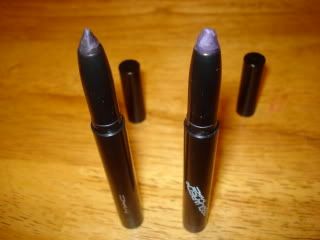 The Greasepaint sticks are a new limited edition product that MAC has released. I heard rave reviews about this product, so I knew that I would be purchasing at least one. I bought the black one first. These can be used as a shadow base or as eyeliners. However, if used as an eyeliner they are not waterline safe. When used as a shadow base, it works really well. I used the purple one as a base for Young Punk eyeshadow, and it stayed all day. Once this baby dries it will not budge. It is sold out in a lot of places, so if you're thinking about getting one you may want to do it quick. I absolutely love this product.
Volcanic Ash Exfoliator and 165 Brush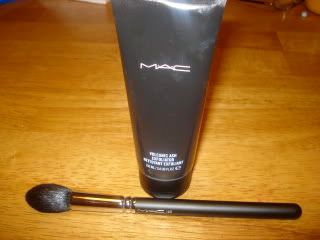 Both of these products are repromotes that have been released with previous collections. The 165 brush came out with the BBR collection last January. It is great for highlighting and contouring. It is so soft, and it seems like its gonna be a great brush. The Volcanic Ash was released with a collection that I can't remember the name of. I wasn't quite the MAC junkie back when this was released as I am now. Many people love this product, and I must say that it is pretty cool. The smell is something that I had to get used to, and to be completely honest I'm not sure I have yet. I only like this product because it makes my skin glowy. I'm slowly getting used to the smell, but at first I thought of returning it. The jury is still out on this one.
Bat Black CCB and Creme Cup Lipstick
:
Bat Black CCB was released with the Style Black collection. I have not used this product yet, but CCBs are meant to be worn on the eyes, lips or cheeks. Because this is a dark burgundy color, I'll probably just use it as a base for shadows. I saw a MAC artist that used it as a base for Young Punk and it looked spectacular. I also think it would go well with Sketch and Beauty Marked eyeshadows. Creme cup is from the regular line. Some compare it to Angel lipstick and that is partly the reason why I bought it. Angel is a frost lipstick while Creme Cup is a cremesheen lipstick. Because frost lippies and I do not mix, I knew that this was the one that I wanted. I bought this primarily to copy Kim Kardashian's lipstick of choice. I am a big fan of her makeup looks, so I really wanted to try something similar. I used it today, and I really like it. It goes great with smokey eyes.

Overall, I really liked everything that I purchased. I know it is a lot, but I did not buy all of this at one time. I was looking forward to this collection for a while, and I was very happy with it. I passed on the lippies for this collection, and that was because I just can't do darker colors. The advertisement images were lovely, but I just can't justify buying a black lipstick that I will never use. The dsqaured collection was awesome as well. I probably will not purchase any more items from the collection though. I am trying to save up for holiday, which is right around the corner. As for the things I bought, I must say my favorite of the bunch are the shadows. They are just too beautiful to pass up. Up next should be a look using the shadows.

Until next time.....