Saturday Night Out
9:44 PM
Hey Ya'll,
Hope everyone had a great weekend. I went out last night to Two Urban Licks in Atlanta for dinner and drinks with some friends. I really liked the makeup look I did. I went for a grey/blueish smokey eye. I modeled this look after Kara Dioguardi, the judge on American Idol. I always love her makeup on the show. I think it turned out pretty much like the makeup she wears. The eyes were pretty easy to do, even though I used a lot of products. I also used the Hello Kitty Lash that I included in my CCO haul. I really like the lashes. I think a half lash suits me better because I have naturally long lashes. These were really easy to apply, and I wanna go back to get a few more pairs. Onto the look....
Products Used (All MAC unless noted):
Face:
Mineralize Satinfinish nc44
Strobe Cream
Select Moisture Cover nw37
Cheeks:
Springshine Blush Ombre (Contour)
Peachykeen Blush
By Candelight MSF
Eyes:
TFSI
Black Greasepaint stick
Wedge e/s
Electra e/s
Knight Divine e/s
Scene e/s
Carbon e/s
Femme Fi e/s
Blacktrack Fluidline
Hello Kitty Lash
Sexy Curves Mascara
Lips:
Ahoy, There!
1n
Here come the photos...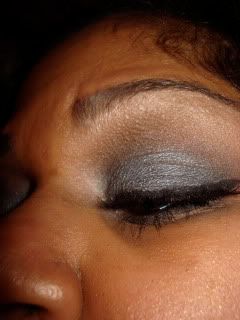 Hope ya liked the look. Until later....

Peace, Love, and Happiness!!