March/Mid April Favorites
9:17 PM
Hey everyone,
Did everyone have a good weekend? This weekend I actually got to relax since the presentations I had to do are now over and I can breathe again. Now I can get back to regularly posting. This March favorites post is way overdue, so I am calling it my March/Mid April favortes. I figured since I had the photos to not waste it and still show you what I've been using. So, here it goes.....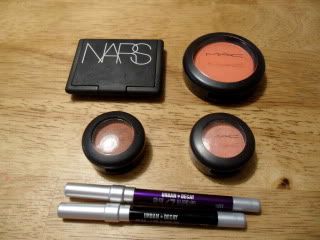 NARS Blush Deep Throat: Nothing compares to NARS blushes. They are the King of blushes in my book. They aught to be when you pay $25 a pop. NARS blushes are so pigmented, and show up great on my skintone. They don't look ashy at all. This is such a pretty pinky-peach blush. It is similar to Orgasm, but I like it better. I think this one shows up better on me than Orgasm which I also own. 
MAC Joie-De-Vivre: This is one of the Cremeblend blushes that came out earlier this year. It is a bright coral color, and it is perfect for springtime. It looks great alone or layered. I wear this alone or with Ripe Peach Blush Ombre over it.

Coppering: Coppering is a permanent shadow in the MAC line. It is a pretty color, and I have been getting  more use out of it lately. I mainly use it with the next favorite.

Paradisco: This is a shadow in the permanent MAC line. It is a peachy color. It looks great on the lid with Coppering in the crease. This has been my everyday look for a while.

Urban Decay 24/7 liners: I pretty much use these pencils every time I do my makeup. Shown in the picture are Flash and Zero, my two favorite colors. I think I used Zero in every single FOTD post I have made on this blog. I absolutely love these pencils. They are so creamy, and once applied they do not budge. These are essential in my makeup stash, and I will be very sad if Urban Decay were to ever stop making them.
So that's it for now. I'll be back very soon!!
Later......