Update and Vacation FOTD
9:42 AM
Hey everyone!!
How has everyone been? It's been so long since I've posted an entry. I have been so bogged down with work from grad school that I haven't had much time for the internet and blogging. I had so many posts planned, but two presentations I had to do just took over my life. I had my march favorites as well as Lush project 10 pan, and a lush haul. I'll try to get these up as soon as possible. As far as weight loss, this month I lost 3 pounds. Not the best, but not the worst. I'm still working at it though. Trying to lose a few more by my birthday at the end of April. I did try on the skirt that I blogged about earlier that I wanted to wear and.....it fits!!! I was really happy about that because I haven't been able to wear it in years. Anyways, that was a great moment for me. I have been working out on my Wii fit, and i find that really helps. Its a great workout! I also bought the Wii Active, but I haven't had a chance to try it because I took a little trip to get away. Oh, I also got a new camera!! I got the Samsung tl225, and I absolutely love it. It takes great pictures. So much better than my last one.
So that's my life in a nutshell since I last blogged. Last weekend, I took a mini-vacation to Daytona Beach and it was so relaxing. I figured that I'd take a few pictures of my makeup at the beach so that I'd have something to post here when I got back. As far as makeup is concerned, at the beach I like to have simple makeup. It's so hot that I usually don't wear foundation at the beach because it just melts off. I love the look of glowy cheeks at the beach. Usually when I go on vacation, I bring everything I own (okay not literally!). This time I tried my best not to do that. I just brought the Urban Decay Alice palette and a few mac shadows. The FOTD I am about to show you was pretty much the look I did for each day of the vacation. It is using scatterays Solar Bits with a colored liner on the bottom. I really liked this look, and I'll be doing it more often. Solar bits can be a little funky to adhere, but I've found that applying it with a finger is so much easier!! The pictures aren't that great, but they'll do. Onto the pictures.
Products used:Face:
Strobe Cream
Cheeks:
So Sweet, So Easy Cremeblend Blush
Azalea Blossom Blush Ombre
Cheeky Bronze MSF
Eyes:
TFSI
Scatterays Solar Bits (Adhered with fix+)
Jabberwocky from the Alice in Wonderland Palette
Lancome Artliner Noir
Urban Decay Liner Flipside with Alice e/s over it (The blue liner pictures)
Urban Decay Liner in Flash with Flash e/s over it (The purple liner pictures)
Sexy Curves Mascara
Lips:
Ahoy, There!
Here come the photos. First, the look with blue liner
......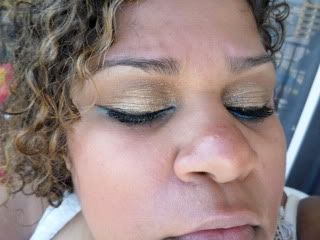 With purple liner......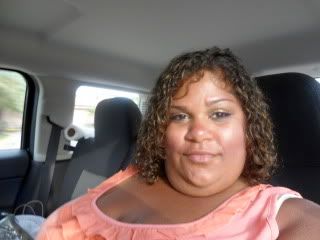 So that is it for now. I will be posting a few more vacation photos, and a vacation haul very shortly. Until next time......

Peace, Love, and Happiness!!