Valentine's Party FOTN
2:18 PM
Hey Ya'll!!
How's everyone doing? Having a great week so far? Hope you had a great Valentine's as well. I actually had a great Valentine's Day. I'm usually the girl who hates Valentine's Day because she's single and bitter. This year I didn't have a man either, but I actually did stuff. I didn't sit at home and mope around wondering why I'm still single. I went out with my single girl-friends for a movie, shopping, and dinner. I had a blast, and I'm gonna make this a yearly tradition. Here's a look I did on Saturday night for a Valentine's party I went to. I used some new products from the Spring Color Forecast Collection. I went out the day before and bought a few more things that I'll show you next. With the purchase, I bought the Lady Gaga Viva Glam Lipstick. I absolutely love this lippie. The haul and review will be up very soon. Anyways, here are the photos...
Products Used (All MAC unless noted)Face:
NARS Sheer Glow Foundation Syracuse
Strobe Liquid
Bronze Hero Lustre Drops
Mineralize Skinfinish Natural Med/Dark
Cheeks:
Springshine Blush Ombre (contour)
Azalea Blush Ombre
By Candelight Mineralize Skinfinish
Eyes:
TFSI
Crushed Metal Pigments Stacked 1
Lala Eyeshadow
Very Violet Eyeshadow
Femme Fi Eyeshadow
Urban Decay Liquid Eyeliner
Feline Kohl Power
Sexy Curves Mascara
Lips:
Viva Glam Gaga
Electric Fuchsia Lipglass

Here are the photos...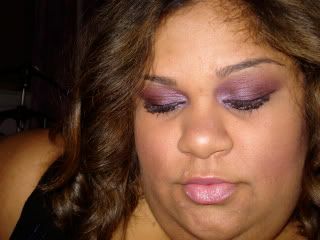 Hope you enjoyed the photos. Until next time....

Peace, Love, and Happiness!!