Random FOTD
3:30 PM
Hey y'all
Hope you had an awesome weekend!! I did this look a couple of days ago, and I really liked it. I used some more products from the Spring Color Forecast collection including Fresh Salmon lipstick. I didn't really like Fresh Salmon when I first applied it, but it is slowly becoming a favorite lipstick of mine. It is perfect for spring as is the blush. The blush gives your cheeks a healthy glow, and lasts all day long. I don't know why I waited so long creme blush, but I really like it. Also in this post, I tell you where I applied which eyeshadow I used. If you like the post better this way, please let me know. Have a great week!!
Products Used: (All MAC unless noted)
Face:
NARS Sheer Glow Syracuse
Strobe Liquid
Bronze Here Lustre Drops
Mineralize Skinfinish Natural Med/Dark
Cheeks:
Springshine Blush Ombre (Contour)
Joie-De-Vivre Cremeblend Blush
Warmed Mineralize Skinfinish
Eyes:
TFSI
Nanogold Eyeshadow (inner 3rd of lid)
Expensive Pink Eyeshadow (Outer half of lid)
Hot Hot Hot Eyeshadow (Crease)
Lala Eyeshadow (Crease)
Sketch Eyeshadow (Outer V)
Femme Fi Eyeshadow (Highlight)
Urban Decay Liquid Liner
Urban Decay 24/7 Zero
Sexy Curves Mascara
Lips:
Fresh Salmon Lipstick
2n Lipglass

Here come the photos.....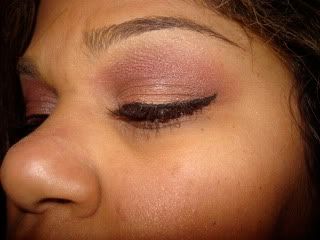 Hope you enjoyed this post. Thanks for reading.

Later.....