Random FOTN
10:26 PM
Hey everyone,
I haven't done a makeup post in forever, so I looked through some old photos that I haven't gotten a chance to post yet. I did this look on a night out recently and I love the way it turned out. This look is my go to purple look when I don't have an idea of what makeup look I want to do. My favorite purple to use on a night out is the Make Up For Ever #92, and this is the star of this look. Here come the products and photos.
Products: (All MAC unless noted)
Face:
Mineralize Satinfinish nc44
Strobe Cream
Mineralize Skinfinish Natural
Cheeks:
NARS Deep Throat Blush
Irridescent Powder Belightful
Eyes:
TFSI
Digit e/s
Parfait Amour e/s
MUFE #92 e/s
Carbon e/s
Femme Fi e/s
Blackrtrack f/l
Urban Decay 24/7 Zero
Sexy Curves Mascara
Ardell 111 Lashes
Lips:
Ahoy, There! l/s
Steppin' Out d/g
Here come the photos....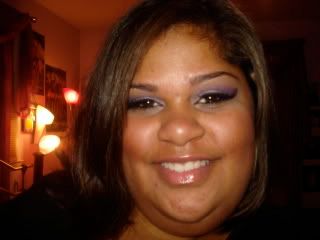 Thanks for looking. Up next should be my Spring Color Forecast haul or the Lush haul.

Later.....