Spring Color Forecast Haul and Review Pt 1
11:14 PM
Hey Everyone,
How's your weekend going? I'm snowed in!! It is once in a blue moon that Atlanta gets snow, so when we do its pretty much shut down everywhere. And on Valentine's weekend to boot. I didn't have major plans, but it still sucks being in the house. Especially when I'm off of work for 4 days. Oh well, being inside the house gives me the perfect opportunity to finally show you all my Spring Color Forecast haul. Its every year in February that MAC releases a big spring collection, and this one has been the biggest one I have seen since I've been using their brand. This collection is set up into four mini collections, each with their own separate color theme. The color themes were Pink, Coral, Plum, and Amber. Each mini collection came with their own set of products. For this part of my haul, I bought products from the Pink and Coral collections. I also included in this haul two products released with other collections released recently.
Here's what I bought:
Spring Forecast Lip Products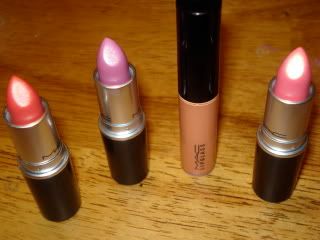 Fresh Salmon l/s
Bubblegum l/s
Ember Glow l/g
Victorian l/s
The lip products in this collection were very pretty. There were so many to choose from, I was a little bit overwhelmed. I do think I got the best looking ones in the collection. They seem to also be the most popular. Fresh Salmon is a nice corally color. When applied to the lips it looks like a nice peachy pink. Bubblegum is a really nice purple pink lipstick. It is very pretty on the lips. Ember glow is a nice coral color. It looks very similar to Queen Bee which was released in Summer 2009, so I might be returning this one. Victorian is a gorgeous color. The only problem I have with it is that it is a frost. I normally don't like the finish of a frost lipstick on myself, but I do like this one. It does look quite nice with Queen Bee on top. Overall, I liked the lip products in the collection.
Eyeshadows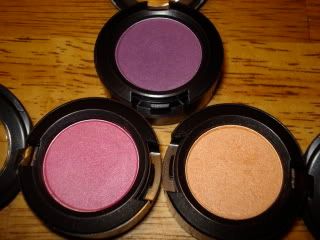 Lala e/s
Very Violet e/s
Straw Harvest e/s
The eye shadows in the collection were gorgeous. There was something for everyone. There were single shadows, quads, and pigments. The eye shadows I bought came with the Pink and Coral collection. Lala is a nice magenta Frost color. It is very similar to Romping eyeshadow, but I like it better. Very Violet eyeshadow is LOVE in a pan. I love purples, so I knew I was going to scoop this one up. Straw harvest looks like an orange shadow in the pot, but once applied to the skin it looks much lighter. Its very pretty. Overall, these shadows were awesome. There is one more that I wanted to purchase so it will be included in part two of this post.
Blush Ombres
Ripe Peach
Azalea Blossom
Blush Ombre's are a new finish to the MAC blush family. Each shade is comprised of a gradient of two colors. The peach color is Ripe Peach and it goes from a bright orange to a nice coral color. When swiped together, you get a nice coral color. The formula makes the skin look very glowy. There is an obvious shimmer in the pan, but when the color is applied to the skin the shimmer is not noticeable. This type of blush is more expensive than the other MAC blushes, but it is also bigger in size. The pan size is equivalent to an MSF, so you get more bang for your buck. I also got Azalea Blossom which has a gradient from purple to pink. The outcome color is a nice pink that gives my skin a flushed look. It is absolutely gorgeous, and perfect for spring. They have two other blush ombre's, one looks like a bronzer and the other a deep purple color. I am in love with this formula.
Warm & Cozy and MAC In Lillyland Products
2N l/g
Joie-De-Vivre Cremeblend Blush

When I ordered the Spring Color Forecast products from the MAC website, I also decided to order a couple of products that I didn't get to buy from collections released earlier in the year. 2N lipglass was originally released with the N collection in 2008 and re-released this year with the Warm and Cozy collection. This color is a pink nude color. I've heard rave reviews ever since this product came out. I totally skipped over the N collection when it came out, so I missed out on this beautiful color. It goes great over Victorian lipstick to tone it down a bit. The blush is Joie-De-Vivre and it was released with the MAC in Lillyland collection in January of this year. This color is a nice peach color, and it looks great as a base for Ripe Peach. I'm gonna be saving this blush for springtime. Corals are very in for springtime, and I love it on my skin tone.

This is it for now. I do have a couple more products to show you, but I have to photograph them first. I got a chance to pick up the Lady Gaga Viva Glam lipstick, and I am totally in love. I'm going to be showing that really soon. Possibly tomorrow since I'm snowed in, but we'll see. Until next time.....

Love, Peace & Happiness!!